The rules of competition "Very Nice Blog"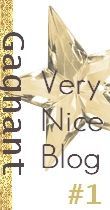 The first edition of "Very Nice Blog # 1" (VNB) will begin on September 1, 2008 and ends on November 15, 2008 at midnight.
The results will be announced on November 30, 2008 at the latest.
This game contest focuses on the aesthetic, the ergonomics and the originality of blogs whatever the blogosphere in which the blog is changing (though blogs reserved for adult audiences are not accepted).
The contents strictly speaking, (text) will not be judged.
Conditions for participation:
You must of course be the author (e) of blog that you submit.

The creation of the blog must before August 15, 2008.

All blogs, whatever their platform, can participate !
To register his blog:
To participate and submit your blog, you must send an e-mail by clicking on "contact" in the menu under the banner and fill out the form with the following information:
- Although clear in the title of your mail "Competition VNB"
- The name of blog
- Save the link to your blog
- Show that in a few words.
NB: A form will be created by blog participant, to learn more about your blog and receive comments of support, to gain valuable points.
Besides, you should:
- To include in your columns logo contest with a link to this blog (http://veryniceblog.over-blog.com/) throughout the period of participation (for this first edition until November 30, 2008 (we will explain how do if necessary)
- Advertise your participation in the contest a ticket dedicated to your blog, when your record will be online.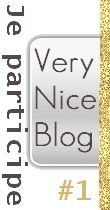 The 5 sheets blog having the largest number of comments supporting start with an advantage in points: 5 points for those with more comments of support, 4 points for the following ...until 5 th to be 1 percentage point in its favour.
The criteria of the jury:
The blogs participants will be judged on:
- Aesthetics general blog: color, design, implementation ...
- The ergonomics blog: functionality, ease of travel, understanding of the reader, speed display, organisation ...
- Originality: the trick in addition that makes all the difference. The attention to detail ... and later "not seen a thousand times elsewhere" ...
The blogs winners:
The jury will award a score of 1 to 10 for each criteria, each participant blog (10 being the maximum score).
The total points of the jury added to those obtained through the comments of support (see below) will determine the winner all criteria confused.
The winners will be those criteria by having obtained the most points in the evaluation criteria.
- The blog, which will bring together the most points for the three criteria (aesthetics, ergonomics and originality) will be declared winner.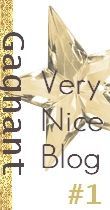 - And 3 other blogs may be rewarded for all three criteria (1 blog for the aesthetic, one for functionality, one for originality)
The list of jury members will be announced shortly.
The winner will become the whole class master of ceremonies the following edition, announcing on his blog the contest and the winners of issue # 2!